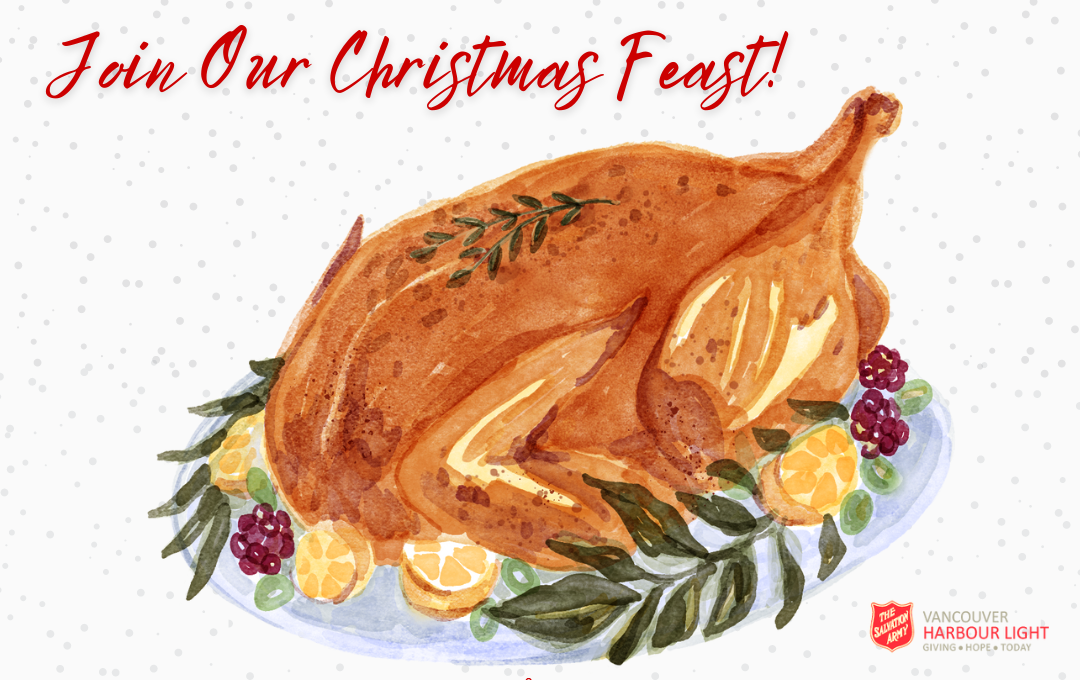 20 Dec

Join us for our Christmas lunch 2021!

Christmas is the season to spread good cheer and feast! Although we are still doing take-out meals for community meals guests, it doesn't stop us from embracing the holiday spirit in Harbour Light! Our awesome kitchen staff is cooking up lots of Christmas Turkeys
 to celebrate the special holiday season. We are planning to serve a total of ~650 holiday meals to our community guests and residential clients on Christmas day. Join us for a warm & hearty Christmas take-out lunch at 11am-1pm on Dec 25th!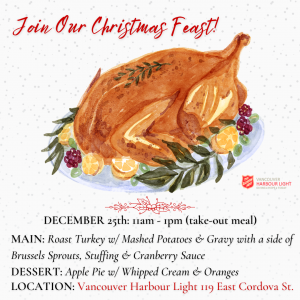 We made this decision to continue with take-out meals to put everyone's health and safety first. Christmas at Harbour Light is something special for everyone involved – clients, staff, guests, and volunteers, please know that we dearly miss sharing the holiday with all of you and we are praying that we can safety welcome you back to our facilities in the future.
You can help – from a distance!
Here are a couple of ways you can still encourage our guests/residents this Christmas, or support our work year-round:
Send a Christmas postcard with words of encouragement and general good cheer to "Any Resident" c/o 119 East Cordova Street Vancouver, BC V6A 1K8. We will distribute these among our clients the week of Christmas. Please do not include any personal information (other than a first name) inside your card – and we will remove outer envelopes to protect your personal information before giving out cards.
Help us meet some of our greatest needs this winter, by donating new socks, underwear, or reusable face masks. Our 24/7 front desk is set up to receive no-contact or low-contact deliveries at 119 East Cordova Street.
Make an online donation to Vancouver Harbour Light through our secure online portal. Your donations will help ensure that we continue giving hope today, and every day, for our community.
Thank you for helping us make Christmas special and meaningful. We wish you a holiday season full of love and joy!