Thank you for your interest in volunteering Behind The Shield! Volunteers have been called "the army behind the Army" for their invaluable service to our community. In 2017, our volunteers generously gave over 4,100 hours of service to our community meals program alone!
Our volunteer registration for  Christmas meal service is now open! We will be serving 1000+ meals at Christmas. Volunteers will help serve meals in a variety of roles, providing a welcoming space for our community guests. 
Festive season hits extra hard for our community guests who may not have any other opportunity for holiday celebrations. Your generosity with your time means a lot to them! Volunteering for meal services is also a great way to meet people and build connections with like-minded individuals! Click "Apply as a Holiday Volunteer" to register.
Christmas Meals Service
Date: Mon, Dec 25th
Shifts: 1.5hrs shifts ranging from 9:45am-2:00pm
If you are interested in volunteering regularly, we have a variety of volunteer shifts available. Our most popular volunteer shifts are community meals servers! Volunteers come during meal times to the scoop and serve food, wipe tables and greet community guests from all walks of life. In-person Community Meals volunteers have flexible shifts with close to daily availability so you can pick the shifts that suit your schedule best. Shifts are during Monday-Friday mealtimes 10:45am-12:00pm, Saturday-Sunday 3:45-5:00pm. See below to see how you can get involve!
How to be a Regular Volunteer:
1. Create a volunteer account and register for an upcoming orientation session.
2. Start the criminal record review process and complete our online boundaries training– instructions will be sent to you closer to orientation date.
3. Attend orientation – you'll get to know us, learn about our policies and procedures, and meet our Community Engagement Coordinator. An email will be sent out after the orientation with volunteer onboarding paperwork.
4. Wait for your clearance letter, then sign up for shifts!
For information about group volunteering, click here.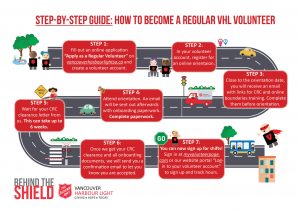 It takes an average of 6 weeks to go through our regular volunteer intake process. Our clients and their safety are always our priority, so we require that every volunteer completes our screening process, including a criminal record check. You must attend orientation, an online boundaries training and receive CRRP clearance before volunteering.
Basic requirements for individual volunteers:
Age: 19+
Clean Time: 1-2 years
Vaccination: BC has a Provincial Health Order in place that requires all on-site volunteers working with Detox, Treatment and CRF clients to be vaccinated with 2 Canadian-approved Covid19 vaccines.
We are gradually developing more diverse volunteer opportunities in our 8 programs to give community members chances to serve our clients in multiple ways. To see different volunteer opportunities that are available, please click here. Volunteers who are interested in skill-based volunteerism or other roles are encouraged to look at available roles under "view volunteer opportunities",  and write down your area of interest when you are completing your online application. You may also contact us through email directly. We will invite volunteers for an interview for most roles outside of community meals. References may be requested depending on the role.
Watch Ricki's inspirational story and see how you can make an impact on our clients.
Frequently Asked Questions
Can I volunteer just once?
We welcome one-time volunteers at some of our holidays and special events, including Christmas and Easter community meals. Watch this page, or our social media channels, for more information.
Can I just show up to volunteer?
To ensure the smooth operation of our programs and services, and the safety of the vulnerable populations we serve, we require volunteers to go through an orientation and screening process before volunteering.
Why does it take so long to be screened as a volunteer?
The safety and wellbeing of our residents and guests is critically important, so we need to know more about you before you join our community. Please be patient – we want to make sure that you are the right fit for our opportunities and that we are the right fit for you!
Why do you use the Criminal Record Review Program? Can't I go to my local police for a criminal record check?
We participate in the CRRP because it's free for volunteers, and it offers a comprehensive risk assessment process with consistent standards. You can learn more about the program on their website.
What is the minimum time commitment per month?
Most volunteers plan to spend 2-4 hours per month with us, but your commitment will vary according to your volunteer role and your schedule. Position descriptions will always outline the time commitment required. Our community meals offer the most flexible scheduling, so if you work rotating shifts or have an unpredictable schedule, they are a great fit!
I still have questions!
That's okay – let's talk! Please reach out to our Community Engagement Coordinator.
IMPORTANT DATES 2023
National Volunteer Week – April 16-22
Easter Community Meal – April 9
Thanksgiving Registration opens – Open now!
Harbour Light's Anniversary – October 1st
Thanksgiving Meal – Sunday, October 8th
Christmas Registration opens – Open now!
International Volunteer Day – December 5th
Christmas Day Meal – December 25th